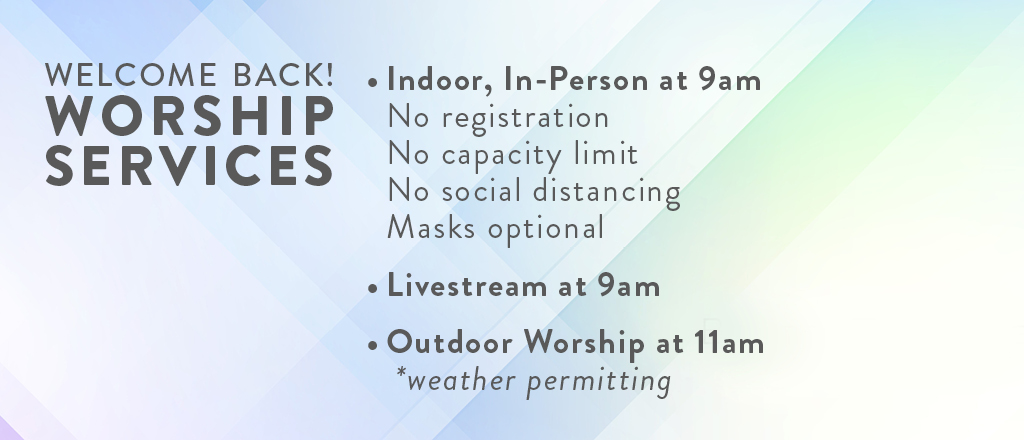 In response to the CDC's recent guidance on May 13 our NC governor largely eliminated state mandates regarding mass gathering limits, social distancing and indoor mask wearing, Grace Mills River will resume our regular 9am worship services beginning May 23, 2021. We invite you worship with us as you feel most comfortable.
Weekly, in-person Sunday worship services are held at 9am in the auditorium at Grace Mills River.

Here are some things to expect:
No limitations on capacity – registration is not required.

No social distancing required.
Wearing face masks is optional.
Some areas will be closed or designated for authorized personnel only. Please respect these boundaries.
Building will be sanitized prior to service, and hand sanitizer provided.
Childcare will not be available. Children should be supervised at all times and adhere to safety guidelines.
No café/coffee refreshments.
Please park on the sides of the building for the 9AM service.
---
Symptoms Check
Please remember as part of our church family, our standards and expectations are that everyone conducts a self-symptom check before coming to Grace to determine whether you are experiencing any of the symptoms below (defined by the CDC).
Fever or chills
Cough
Shortness of breath or difficulty breathing
Fatigue
Muscle or body aches
Headache
New loss of taste or smell
Sore throat
Congestion or runny nose
Nausea or vomiting
Diarrhea
If you are experiencing any of these symptoms, stay home and do not come to Grace. Please call an Urgent Care Center, personal medical provider, or Henderson County Department of Public Health for medical consultation. (Testing resources: https://www.hendersoncountync.gov/health/page/covid-19-testing-information)
We look forward to worshiping with you! Live online services will continue every Sunday at 9am on the website as well as outdoor worship service at 11am in the main parking area (weather permitting).