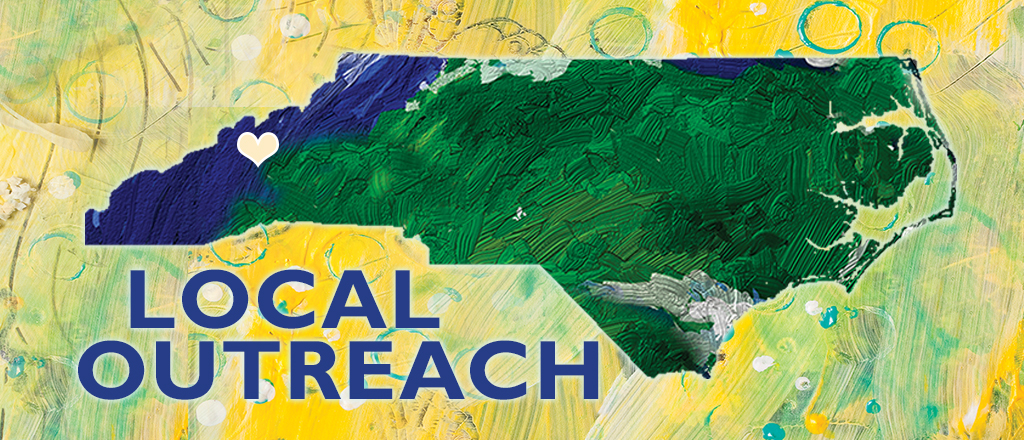 Local Outreach through Grace
We have an on-going commitment to serve our local communities. See the list below of our ministry partners. If you are interested in being a part of Local Outreach at Grace Mills River, contact Amanda McLamb, Missional Living Director, at
---
Samaritan's Purse Operation Christmas Child at Grace Mills River
It's time to pack shoeboxes again for OCC! Instead of having a packing party at Grace like we've done in past years, we would love for you to host your own OCC Shoebox packing party! We will have empty shoeboxes and all the information you will need for a packing party at a promo table in the cafe. Also, for the second year, GMR will be a drop-off location for our area for OCC Shoeboxes,November 12-19. If you would like to be part of a team receiving packed shoeboxes at Grace during drop-off week, please come to the promo table to sign up or contact Teresa Jordan at .
Drop-Off Dates:
November 12: 2-6pm
November 13: 5-7pm
November 14: 2-6pm
November 15: 10am-2pm
November 16: 2-6pm
November 17: 10am-2pm
November 18: 1-4pm
November 19: 10am-12pm
---
Christmas Gifts for local children in need
Grace Mills River has the privilege of partnering with The Storehouse in Hendersonville's "Blessings in Boxes" for a third year to help 25 local children at Christmas. Gift tags can be taken from the Christmas tree in the cafe from November 4th -18th. Unwrapped gifts should be returned by December 2nd behind the Children's welcome desk. Any questions, contact Amanda McLamb:
---
Kairos Weekend at Craggy
Kairos will serve their third weekend event Nov. 15 -18 at Craggy Prison. Contact Scott Parrish at or visit their table on November 11 in the Info Area to sign up to pray, provide support and learn about this ministry to the incarcerated men and women in WNC.
---
Special Class:

QCommons - The Power of "WE"
You are invited to join the continuing conversations from the recent Q Commons. We will discuss the impact of hospitality in our culture and how to advance the good in our community. We will meet Sundays, December 2nd, 9th & 16th during the first service in the Education Building. Questions? Contact Amanda McLamb at
---
Local Outreach Partners
---