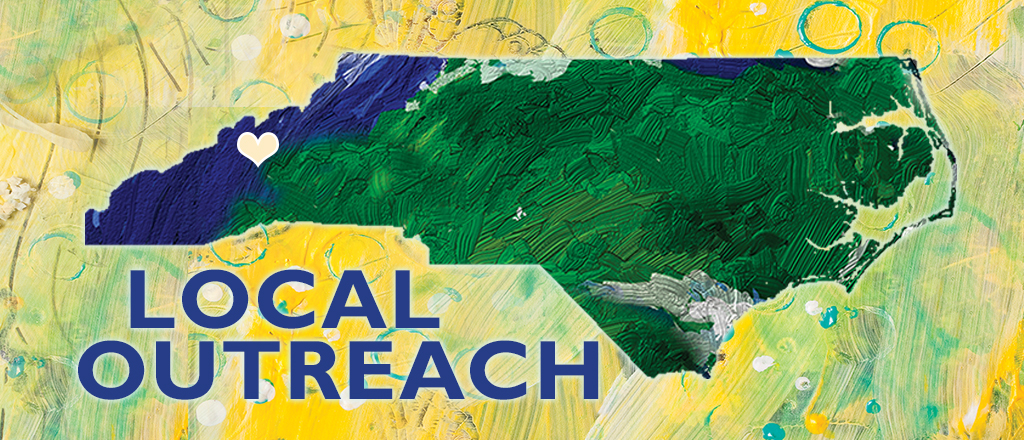 Local Outreach through Grace
We have an on-going commitment to serve our local communities. See the list below of our ministry partners. If you are interested in being a part of Local Outreach at Grace Mills River, contact Amanda McLamb, Missional Living Director, at
Are you interested in serving our communities through Local Outreach? We'd love to hear from you!
---
BackPack Program: NON PERISHABLE FOOD ITEMS NEEDED
The BackPack Program partners with Henderson County Schools to help provide supplemental food during the school year to children who are not receiving regular meals at home. Backpacks filled with non-perishable foods are sent home with children each week to help provide those needs.
We are collecting non-perishable foods in child-friendly packaging at GMR. Collection bins are on the Children's hallways. For more information contact Amanda McLamb:
Suggested Food Choices
Canned Fruit
Oatmeal Packages
Beans And Franks
Cereal
Soups
Fruit Cups
Pop Tarts
Vienna Sausage
Crackers
Pudding
Canned Stew
Chef Boyardee Items
Mac And Cheese Bowls
Raisins/Dried Fruit
---
Least of These Asheville
LOT serves the homeless community of Asheville every Saturday morning. They also collect clothing to pass out o their guests. The most needed items include general clothing, backpacks, tents, sleeping bags, winter accessories, blankets, as well as men's and women's undergarments. There is a box in the lobby to collect donations.