The elders at Grace are committed to shepherding the body as revealed in scripture:
"I will place shepherds over them who will tend them, and they will no longer be afraid or terrified, nor will any be missing," declares the Lord."
-Jeremiah 23:4
"Keep watch over yourselves and all the flock of which the Holy Spirit has made you overseers. Be shepherds of the church of God, which He bought with His own blood."
-Acts 20:28
Shepherding Parishes Explained
Purpose of Parishes
Our Purpose: To help every member feel cared for, and encouraged to grow in their relationship with Jesus Christ.
Parish Shepherd - An elder assigned to each parish.
How Parishes Are Assigned
Each Shepherd is assigned to a Parish based upon its geographic location throughout our local region.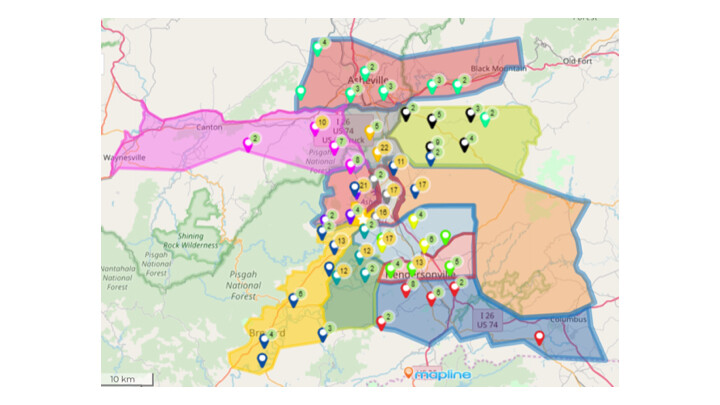 Mission of Parishes
Account for the status of GMR members


Be aware of life shifts/changes (moves, marriages, no longer attending GMR, etc.)
Interview & welcome new GMR family members that will be in their parish

Connect members as needed


Personal spiritual/pastoral care as needs arise
GMR Ministries (Worship & Arts, Equipping / Discipleship, Youth, Children, Missional Communities, Global Missions, Local Outreach & Diaconate)
Resources as needed (eg: financial, counseling, etc)
Connecting with other members of GMR
Responsibilities of Parish Shepherds (Elders)
Pray for their parish
Oversee & check in
Share congregational communications
Interview new members who will become a part of their parish
Respond to needs and spiritual care as needed
Refer members to pastoral care or mercy support as needed
Connect with the Church Center App
If you are an active member at Grace Mills River, you may use the Church Center app on your mobile device to see your Parish Elder and other members who are in your parish (and may live near you!).
From your mobile device:
Go to the App Store on your phone and search for "Church Center". It is a free app!
Download the app.
When prompted, enter your zip code and then choose Grace Mills River Church as your church.
Follow the prompts to get logged in: You will probably have to either enter your phone number or email address, possibly both.
Planning Center will send you a code either via text message or to your email.
Enter that code into your the Church Center App.
Click on the groups icon at the bottom of the screen and you should see your class.

Next Steps
Download the Church Center app to find your name & parish group based upon your "neighborhood" (ie: geography).
Not a fan of hi-tech? Not a problem! Contact us and we'll be glad to connect you with your Parish Elder.
Are you a member, but not in a parish?
Contact us to let us know you'd like to be included.
Would you like to become a GMR member and join a parish?
Contact us about joining the next Becoming Family Class.
Your Parish Elder will contact you soon!
If you are a member and have had a change of address, phone number, family status or children, we want to know! Members and attenders are invited to Contact Us with updated information so that we may update our records for you. These updates will allow our Shepherding Ministry Team to better serve the Grace body.