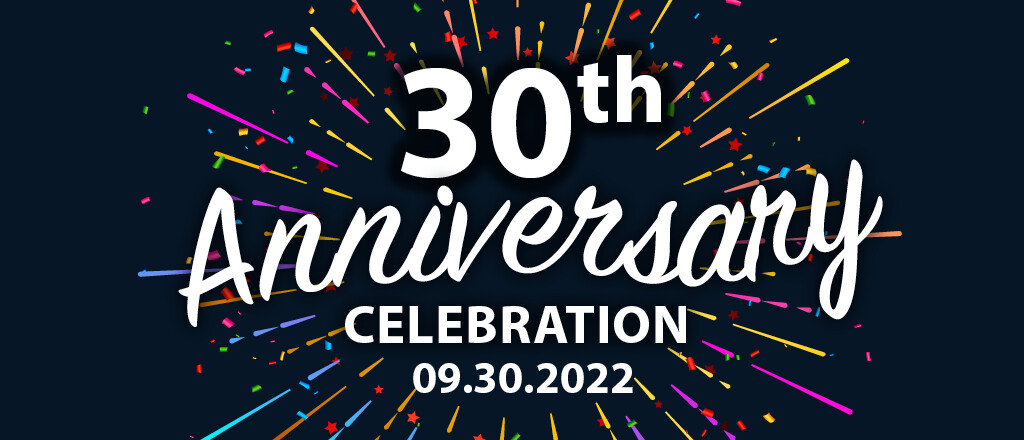 Happy Birthday, Grace Mills River!
We are excited to celebrate 30 years of ministry at Grace Mills River! Save the date: Friday, September 30, 2022 at 6pm at the Pavilion!
Let's celebrate with an evening of music, food, and fun!
We will have a food truck & vendors selling BBQ dinners (Garage BBQ), desserts and fresh squeezed lemonade. Please let us know if you plan to purchase a food or drink so we can provide the food vendors with a headcount.

The bands will be set up under the Pavilion so be sure to bring your own lawn chairs!
RSVP FOR FOOD VENDORS is now closed.

---
Community & Body Life News
GMR's 30th Celebration Concert - Craig Lotz -
Description:

God has richly blessed our church for the last 30 years, and we want to celebrate with you! Come and enjoy a night of gratitude, community, good food (Garage BBQ, fresh lemonade & dessert), and music supplied by musicians at Grace. This is a great occasion to invite friends and neighbors for a party three decades in the making!

*Remember to bring a lawn chair.

When:

Friday, September 30 at 6PM

Where:

GMR Pavilion & parking lot

RSVP:

by Friday, September 23 *

RSVP HERE

.

Questions:

Contact Craig Lotz, W&A Creative Coordinator.
Becoming Family - Membership Class - Allison Rickman -
Description:

Join us to learn more about Grace ministries, our distinctives, values, philosophy and vision. This is a great way to get to know us whether you want to find out more about GMR or are ready to become a member.

*Required for membership.

When:

Sunday mornings, October 9, 16 & 23 from 9:00AM to 10:00AM

Where:

GMR Education Building - Room 302

Register:

GraceMillsRiver.churchcenter.com/registrations
Stepp Orchard Event - Allison Rickman -
Description:

Join us for a fun evening at Stepp's Hillcrest Orchard. The orchard will close at 6PM but remain open for GMR folks only til 7PM. GMR will provide 2 wagon rides and apple donuts. You are welcome to pick apples, purchase items from their store and walk through the corn maze as well. Bring a picnic dinner to enjoy the beautiful setting and have apple donuts for dessert! We are looking forward to a fun evening for all!

When:

Sunday, October 16 from 4PM - 7PM

Where:

170 Stepp Orchard Drive Hendersonville, NC 28792

Questions:

Email Allison Rickman.

Register

:

Google Form Sign up
SAVE THE DATE - Christmas Movie Matinee - Craig Lotz -
Description:

Let's get into the Christmas spirit! Join us for a Christmas movie matinee to kick off the holiday season. Wear your favorite Christmas PJs, bring a blanket and pillow and enjoy the show!

When:

Sunday, December 4 at 3PM

Where:

GMR Auditorium

Questions:

Email Craig Lotz.


*Watch the weekly email update for more details and registration
Shepherding Ministry - Rick Hebert -
Description:

The Grace elders are committed to shepherding the members as encouraged in scripture. The purpose of the Shepherding Ministry is to help every member feel cared for, and encouraged to grow in their relationship with Jesus Christ.

Basic Structure:

Each member is assigned to a Parish based on their home address. A

Parish Shepherd

, GMR elder, is assigned to each parish. Each member is also a part of a smaller group of members called a flock. Each parish is made up of multiple flocks. Each flock has a

Flock Advocate

, a leader or lay member who is trained to provide a personal connection with each member of their flock.

Questions:

Email Rick Hebert.
---
Ways to Serve the GMR Body
Meal Train - Sheryl Mathis - or Julie Ledford -
Description:

Our deacons have had several needs for meal preparation for our church families during times of illness, surgery, etc. We are in the process of building a group of folks that would like to help provide meals when needs arise. If you would like to help with meal preparation, please contact either Sheryl or Julie.