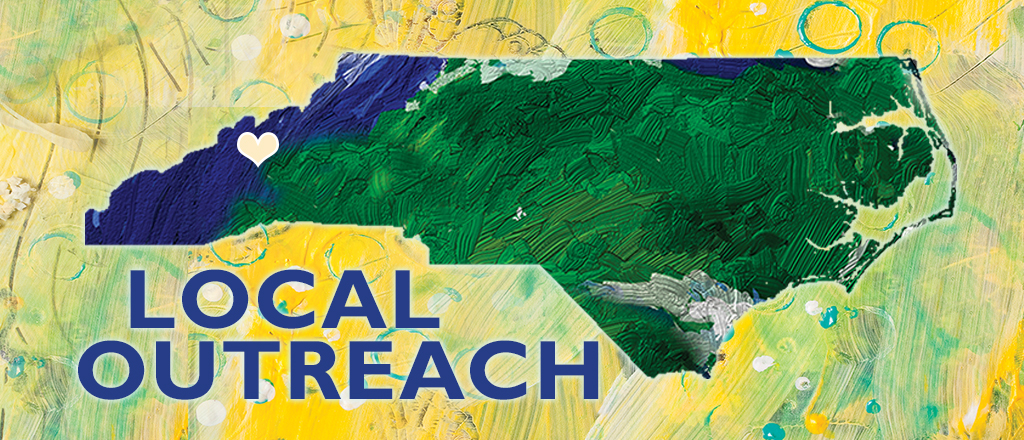 Local Outreach through Grace
We have an on-going commitment to serve our local communities. See the list below of our ministry partners.
Are you interested in serving our communities through Local Outreach? We'd love to hear from you!
---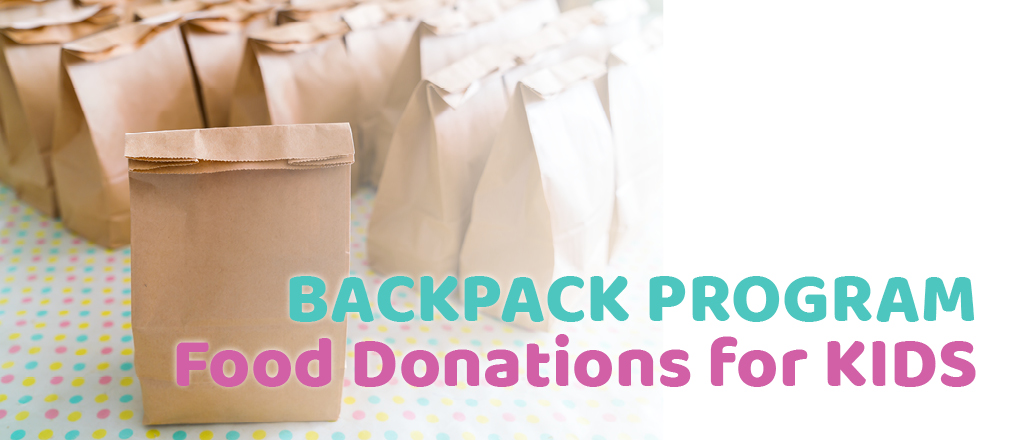 Food Donations for BackPack Program
Our last Feed the Need Delivery took place the week of August 16th. We thank you for your generosity and giving. Moving forward, we will be donating non-perishable, light weight items to the Backpack Program at Glenn Marlow Elementary. We will be collecting these through out the school year.

Items include:
-Ramen noodles
-Fruit cups
-Individually packaged snacks
-Mac and cheese bowls
-Oatmeal
-Granola bars
Please do not donate large or heavy canned items as these items are for young, elementary-aged students.
If you are interested in volunteering to help with collection, organization, or food delivery, please contact Christen at
---
Local Outreach News
New Partner! Black Mountain Home for Children - Paul Shogren -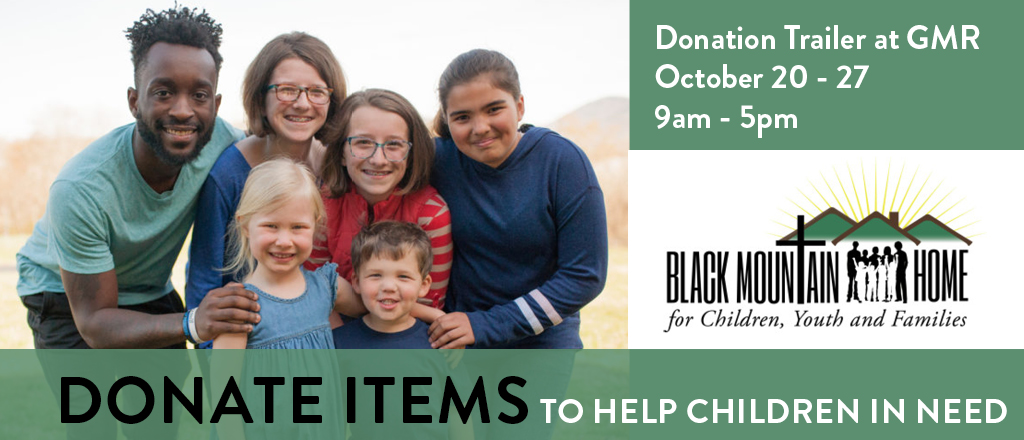 Black Mountain Home for Children Donation Drive - Paul Shogren -
You can help children in need by donating gently used clothing, household items, kitchenware, books, art, furniture, etc. to the ministry's thrift store. Time to do some fall cleaning! Bring your donation boxes or bags to the thrift store trailer. Please share this information with your neighbors and friends to encourage them to help children who have been abused, abandoned, and neglected. A trailer will be parked at GMR , Wednesday, October 20 - Wednesday, October 27 to receive donations. If you have large furniture items that need to be picked up, please call (828) 581-0596 to arrange a time.
Questions: Email Paul Shogren - pshogren@bellsouth.net"
---
Thank you for your generosity!
---
Meet Our Local Outreach Partners
Least of These
www.leastoftheseasheville.com/
Least of These Asheville is a nonprofit that feeds a warm breakfast to the homeless community of Asheville every Saturday morning. We are always looking for groups big or small to come join us on a Saturday morning. Least of These is able to provide a hot breakfast, clothing, blankets, tents and other living essentials to our guests because of generous donations. Donations can be delivered to Missio Dei Church at 531 Haywood Rd in Asheville or sent to LOT Asheville PO Box 895 Fletcher NC 28732. Contact Liz Loop at with any questions.

Interfaith Assistance Ministry
IAM's mission is to provide emergency relief to Hendersonville County Residents who are in financial crisis by offering food, clothing, utility and rental assistance to those who qualify, school supplies, prescription support and overall guidance in an atmosphere of compassion and respect. Volunteers are needed Monday-Saturdays from 9am-1pm. They can assist in the clothing and pantry areas or as an intake interviewer after a small amount of training. Please contact the volunteer manager at 828-697-7029 or email .
The Storehouse
https://www.storehouseonline.org/
The Storehouse is a Christ-centered food and hygiene pantry serving the low income, elderly and needy families of Henderson County. Want to help at the Storehouse? You can volunteer time or talents! Volunteer any amount of time to helping us run The Storehouse or help with letter writing, data entry, handyman services, driver, etc. Call the Storehouse to find out more. (828) 692-8300
Asheville / Buncombe County Christian Ministries
While responding to meet emergency needs, we develop strategic plans to address root causes of poverty, take steps to achieve independent living skills and restore lives in the community. We accomplish this through these ministries: Crisis Ministry, Jail/ Ministry, Veterans Restoration Quarters, Steadfast House, Medical Ministry and Veteran Services of the Carolinas. ABCCM is generously supported by over 289 churches of all denominations and 6,100 trained volunteers and provides emergency assistance to anyone in need regardless of race, color, national origin, sex, age, religion, or disability. ABCCM stimulates doing together what individual congregations and individuals cannot do separately. Opportunities to serve with ABCCM: https://abccm.squarespace.com/serve
Young Life of Henderson County :
https://hendersoncountync.younglife.org/
Young Life of Henderson County is an outreach ministry to local teenagers. Our mission in Young Life is to introduce adolescents to Jesus Christ and help them grow in their faith. Our main method to reach teenagers is through genuine friendships with caring adults. A team staff and volunteer leaders invest in authentic relationships with high school students, walk alongside them through life, and share the gospel with them. We seek to reach kids with humor, adventure, and caring for every kid regardless of their response. We believe every teenager deserves the opportunity to hear about Jesus in a way they can understand from someone who cares about them. To volunteer contact Graham at:
Council on Aging of Henderson County / Meals on Wheels
The Council on Aging of Henderson County provides services to engage, connect, and support adults in our community as we age. The Meals on Wheels program provides a hot meal every weekday for homebound older adults in Henderson Meals on Wheels clients receive important social interaction with caring volunteers. These visits, which also serve as a regular wellness checks, often turn into lasting friendships. Want to volunteer as a driver for Meals on Wheels? For more information about how to volunteer: http://coahc.org/volunteers/
Kairos
http://www.kairosprisonministry.org/
Kairos Prison Ministry International is a cross denominational ministry with the purpose of sharing Gods unconditional love to the incarcerated. Kairos focuses on developing and promoting a strong Christian brotherhood amongst the inmates within the prison community through their 'Kairos weekends' and subsequent monthly reunions'. To serve as part of the Grace Kairos team or for more information please contact: Jeff Leider:
Homeward Bound
https://homewardboundwnc.org

Homeward Bound is an organization in Buncombe County that reaches out to the most vulnerable homeless individuals living on the streets of our community to connect them with permanent supportive housing, healthcare, disability income, and community mental health services. They run the AHOPE Day Center, Western North Carolina's only day center for people experiencing homelessness and it meets a crucial need. Visit their website for volunteer opportunities or information on donations needed https://homewardboundwnc.org/

Safelight
https://www.safelightfamily.org
Safelight is a nonprofit agency in Henderson County that provides support for survivors of interpersonal violence, sexual assault and child abuse. They make it possible for families who want to be free of violent relationships, to succeed. They offer free, confidential help for adults and children. Their services include a 24-hour crisis line, emergency shelter, advocacy, counseling, case management, support groups, job training, and much more. Visit their website for more information: https://www.safelightfamily.org