Welcome to Grace Mills River
Here you will discover a warm group of real people dedicated to following our Lord and Savior, Jesus Christ.
Service Times
9am: Connect & Fellowship, café (Bring the whole family! No childcare at this time)
9am: Watershed Youth, upstairs
9:45am: Prayer Gathering, prayer room
10:30am: CM Classes (registration required)
10:30am: Worship Service
Online Worship Videos
Weather Policy
Plan Your Visit
Worship Style
Kids on Sundays
Contact Us

Worship
Normally our services are thematic and revolve around one central truth grounded in Scripture that ties everything together. Although this requires a fair degree of forethought and planning, we always seek to remain open to God's Spirit leading us in a different way. Therefore, we maintain a measure of flexibility and spontaneity.
Music
Our particular calling involves a contemporary style of music which we hope helps communicate Christ in a relevant way to our modern culture. This has been a common practice throughout history. For example, Martin Luther used various culturally familiar music styles in his hymns, and Handel's Messiah was at first rejected as being too worldly and modern in style. This does not mean we do not value or use more traditional forms, just that we have an emphasis distinctive to our mission.
Clapping and Raised Hands
Many of our folks enjoy clapping or raising their hands in worship, both of which are commended in the psalms. We trust you will allow them such freedom and that you will feel free yourself either to participate, or not. Sometimes our folks will also clap after a song or drama. They don't do so because they were entertained, but because they are thanking God and encouraging their friends. We encourage you to follow your own conscience.
Messages
Our messages address relevant topics that relate to everyday life. However, they are also based clearly on the Scriptures -- normally from one particular passage, which is taken in its proper context and explained and applied in an understandable way. Many times, these messages are part of a broader series as we work through particular books of the Bible.
Offering
We do not pass an offering plate or basket in order to avoid making our guests uncomfortable. Instead, we hope you will see this service as our gift to you. We invite those already committed to our ministry to place their offering in the boxes provided on their way in or out of the worship celebration.
Art
Drama, visuals, dance, movie clips and more are often used in our services; not to entertain, but to help us appreciate how the Scriptures address real life. These forms serve to illustrate the sermon through beauty rather than the spoken word alone. (Ezekiel, Jesus, and other biblical figures often used various forms to communicate God's message.)
Greetings
Normally we have a time for greeting each other during the services, which is a current application of a practice that dates back to the early church. It reminds us that, in Scripture, public (or corporate) worship differs from private worship in that there is a horizontal (people-to-people) element, as well as a vertical (people-to-God) element.
Communion
We celebrate communion monthly in the Sunday Morning Services. We also have special services that include the Lord's Supper around Christmas and Easter.
Dress
We believe God is more interested in the state of our hearts than what we wear. (Scripture never outlines a dress code). Therefore, we emphasize freedom, whether formal or very casual, as long as we all remain respectful to the Lord, and caring toward others.
Cry Room
The worship service is on closed circuit television for parents with small children in the cafe area. Room 135 on the Children's Ministry Hallways is available for nursing moms and toddlers.

For more information on involvement in the worship ministry (vocal, instrumental or support), please contact us!
Children's Ministry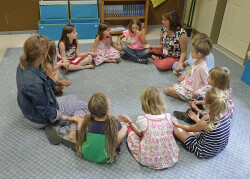 If you are new, we encourage you to check in at the children's welcome desk in the main building where volunteers can help direct you to your children's classes. We offer classes for birth through 5th Grader during both services. Third through fifth graders are invited to go directly to service for worship singing with families before being dismissed to their classes.
Watershed Youth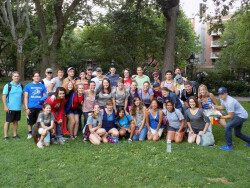 All middle school and high school students are invited to join us. We meet upstairs in the youth room, 9:00am on Sundays for SHED; hang out, sing songs, short talk about Jesus.
Do you have a specific question?
We want to get to know you! Complete this brief form and let us know how you'd like to get Connected at Grace. Someone from our Communities Care Team will respond soon!