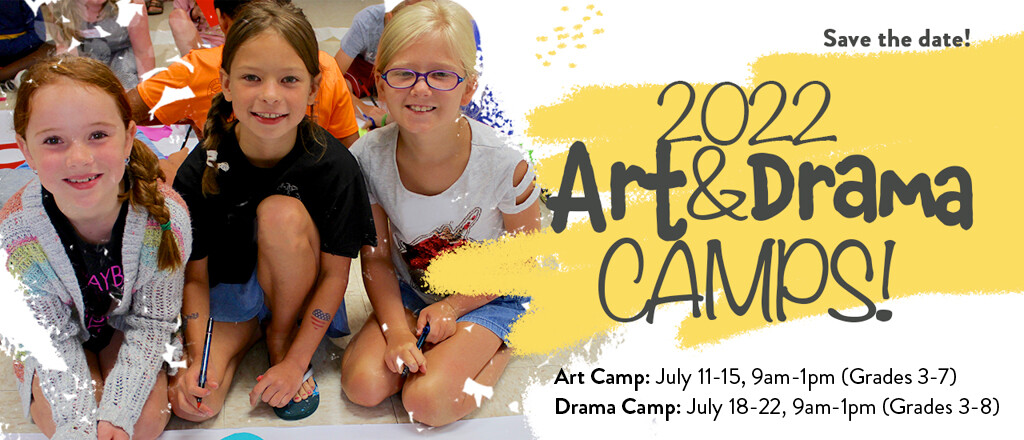 We are so excited For the 2022 Art & Drama Camps!
Grace Mills River has offered summer Art & Drama Camps for many years. We believe that every person is creative, made in the image of God, the ultimate Creator. Art and Drama camps are simply ways to express this creativity and imagination.
Art Camp: Monday, July 11 - Friday, July 15 (Closing art show on July 15)
9am-1pm for students in Grades 3-7

Campers are divided into classes by age. Each camper will experience three different art mediums, taught by three trained and experienced art educators. The art will be displayed at a reception for family and friends on July 15.
**UPDATE: ART CAMP IS FULL as of Monday, May 9. Please contact Christen directly to be added to the waitlist at **
Drama Camp: Monday, July 18 - Friday, July 22 (Closing performance on the July 22)
9am-1pm for students in grades 3-8
Led by experienced theater educators/directors, campers will learn the art of improv, the jobs of the theater, a bit about directing, and what it is like to prepare a role and perform in front of an audience. It does not matter if students have never seen a play or if they are Broadway veterans. All are welcome! Performances will be held on Friday, July 19 for family and friends.
Registration opens Monday, May 2nd
Cost is $95 per camp, $165 for both camps
Space is limited. If registration is full, please contact Christen Stewart ( ) to be added to the waitlist.
Questions?
If you have any questions about Art and/or Drama Camp, please contact Grace Children's Ministry at or 891-2006 ext 133.
Registration
REGISTRATION OPENS MAY 2!
Our registration process has changed. Please review these instructions prior to registration. Registration closes June 24.

**UPDATE: ART CAMP IS FULL as of Monday, May 9. Please contact Christen directly to be added to the waitlist at