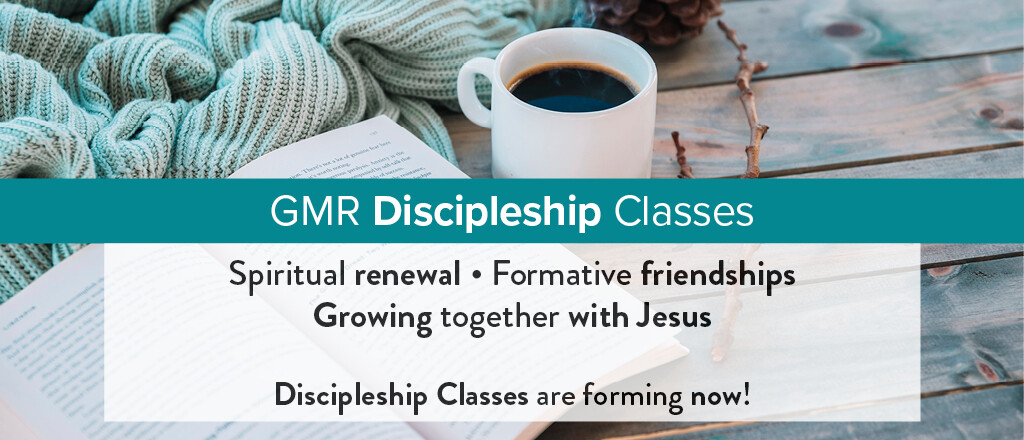 Grace Discipleship focuses on personal spiritual renewal, biblical and theological foundations and practical instruction to experience what it means to live a life of renewal and spiritual vitality. Our desire is for everyone to grow deeper in their gospel understanding.
Join Andrew Kerhoulas, Pastor of Discipleship, over on our new GMR Discipleship group on Facebook. We simply want to provide a space for online interaction about following Jesus together as a church.
GMR Online Discipleship Facebook Group
Not on Facebook? No problem! Contact Us and let us know how we can best connect with you.
---
2022 Summer Discipleship Classes
Co-Ed Studies
Sundays
New! Apostles' Creed Study - Cindy Stashenko - .edu

Description

: Are you looking for a non-intimidating to discuss the core beliefs of the Christian faith? From June 26 through September 4, we'll move through the Apostles' Creed, learning what all Christians everywhere have always believed. Contact Cindy Stashenko for more info ( .edu).
When: Sunday mornings, 9-10am
Where: Education Building, Room 302
Encountering God's Word Together - Ken Downer -
Description:

Come join us as we dive into the scripture passage the sermon will be based on that day. No preparation is necessary. Sit and listen or join the discussion. This is a great way to grow closer to each other as we enjoy the scriptures together. We end our time together just before the prayer gathering which makes for a great Sunday morning!

When:

Sunday mornings from 9:00AM - 9:40AM

Where:

Education Building - Room 307
Wednesdays
New: Scripture Meditation: Experiencing the living Word of God
Description: Are you looking for a deeper look at scripture? We will meditate on short Bible passages and listen for God's voice; we will share what we experience with one another. Each meeting will stand on its own, no worry about missing a session.
When: Wednesdays 7-8 pm, July 13-August 24
Where: Online via Zoom
Contact: Kathie Sorenson for details or questions at
Women Only Studies
New! Summer Book Study: Every-other-Tuesday evening, June 14-July 26
Description: Women of Grace are invited to a new summer book study going through "Humble Roots" by Hannah Anderson. She writes, "When we believe that we are responsible for our own existence, when we trust our ability to care for ourselves, we will have nothing but stress because we are unequal to the task." Isn't that something we all wrestle with- "taking the reins," as it were? Hannah reminds us we are the creature (not the Creator) and with that humble status we find true rest, when we are submitted to the yoke of Christ. We hope this could be a respite for your soul this summer.
When: Tuesdays, 6:45-8:15pm, June 14 - July 26 (every other Tuesday)
Where: The Canter's home - Please contact for details.
Register: TBA
Ladies Bible Read - Elenore Beach -
Description:

Join a group of gospel-loving women who love to read through Scripture together. We meet together a couple of times a month to discuss the questions and insights we are gleaning from our readings. Currently, we read through portions of the old and new testaments and engage in laid back but profound discussion.

When:

1st & 3rd Mondays from

10:00AM - 11:30AM

Where:

Online via Zoom

Register:

Email Elenore Beach.
Men Only Studies
Saturday Morning Breakfast Gathering - Dave Bokmiller -
Description:

The Men's Breakfast Group meets for a time of fellowship, Bible-based study, discussion & prayer.

When:

1st & 3rd Saturdays of the month, 8:00AM - 9:30AM *watch the website for any schedule changes

Where:

GMR Cafe

Questions:

Email Dave Bokmiller.
Wednesday Night Bible Study - Jim Pearce -
Description:

A book study and a time for fellowship and mutual encouragement.

When:

Wednesday evenings at 6:00PM

Where:

GMR - Education Building - Room 304

Questions:

Email Jim Pearce.
Prayer
Sunday Morning Prayer Gathering - Dave Bokmiller -
Description:

Everyone is invited to join the prayer team to pray for our world, nation, community, church and one another. Each week prayer requests from the church family are shared and prayed for. You may come to be prayed over as well.

When:

Sunday mornings from 9:45AM - 10:15AM

Where:

GMR - Education Building - Room 304

Questions:

Email Dave Bokmiller to receive the prayer list.