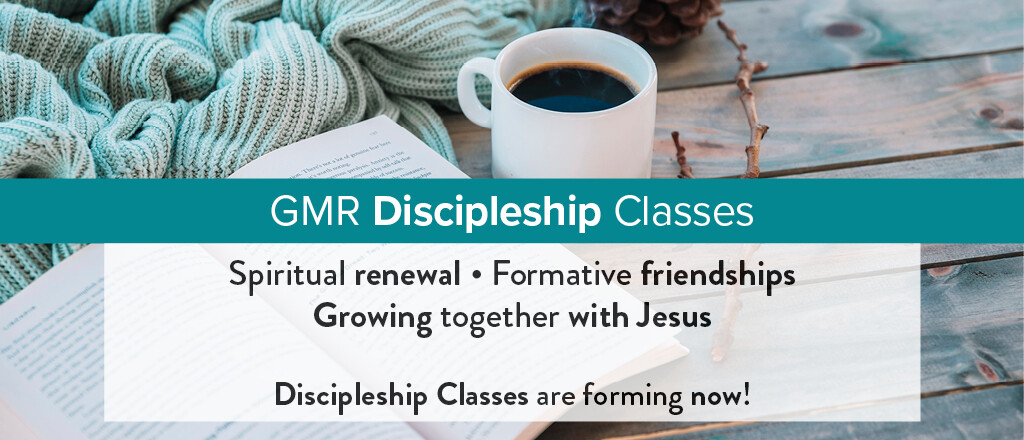 Grace Discipleship focuses on personal spiritual renewal, biblical and theological foundations and practical instruction to experience what it means to live a life of renewal and spiritual vitality. Our desire is for everyone to grow deeper in their gospel understanding.
Join Andrew Kerhoulas, Pastor of Discipleship, over on our new GMR Discipleship group on Facebook. We simply want to provide a space for online interaction about following Jesus together as a church.
GMR Online Discipleship Facebook Group
Not on Facebook? No problem! Contact Us and let us know how we can best connect with you.
---
2023 Winter/Spring Discipleship Classes
Co-Ed - Studies, Gatherings & Opportunities
[Community Groups - Gatherings around Meals]
Sunday Lunch Gatherings- Gregg Stashenko - & Cindy Stashenko -
Description:

Are you hungry after worship on Sundays? Do you have trouble figuring out or agreeing on where to go or what to have? If so, let us make it easy on you, join Gregg & Cindy Stashenko at a local restaurant for some food & fellowship.

When & Where:

January 15 at Moe's on Airport Road

January 29 at Firehouse Subs on Airport Road

February 12 at Which Which in Biltmore Park

February 26 at White Duck Taco on Long Shoals Road / Miami Drive

Register:

No registration needed. Just head over to the restaurant after the service.
Monthly Community Group (Thursdays) - Glen McCandless - & Cindy McCandless -
Description

: Do you want to build community with more folks at Grace? What about over dinner? Beginning in February, we're offering a brand new community group where folks of all ages and life-stages can share life, pray, and enjoy a meal together on a monthly basis.

When:

4th Thursday of each month beginning Thursday, February 23 @

6:30pm (RSVP each month to confirm there are no changes in the gathering dates and times)

Where:

Biltmore Park

*Specific Address will be shared in response to RSVPs.

Register:

Space is limited, so please RSVP at

GraceMillsRiver.churchcenter.com/groups/discipleship
[Sundays]
Encountering God's Word Together - Ken Downer -
Description:

Come join us as we dive into the scripture passage the sermon will be based on that day. No preparation is necessary. Sit and listen or join the discussion. This is a great way to grow closer to each other as we enjoy the scriptures together. We end our time together just before the prayer gathering which makes for a great Sunday morning!

When:

Sunday mornings from 9AM - 9:40AM

Where:

Education Building

- Room

305
The Lord's Prayer, Tim Chester's Talking to Our Father - Gregg Stashenko - & Cindy Stashenko -
Description:

In this study by Tim Chester we will examine the Lord's Prayer line by line, exploring other passages in Matthew's Gospel along the way. As we learn more about the prayer Jesus taught us, we'll get to know God better and seek to live according to his purposes.

When:

Sunday mornings for 7 weeks (January 15 - February 19) from 9AM - 10AM

Where:

Education Building - Room 302

Register:

GraceMillsRiver.churchcenter.com/groups/discipleship


*Childcare Available upon request in registration form.
[Tuesdays]
Inside Out - Elenore Beach - ​​
Description:

Building healthy relationships starts inside of us. In this participative 6-week training, we'll explore how our past relationships have shaped us, and how Scripture speaks into our past and points us forward, allowing God to reshape how we relate to others by working on skills that build health into our current relationships.

When:

Tuesday evenings for 6 weeks (January 24 - February 28) from 6:30-8PM

Where:

via Zoom with in-person option available

[Wednesdays]
Renewal Nights - Andrew Kerhoulas -
Description

: Spiritual renewal and prayer have always gone hand in hand. We seek to host a monthly space to encounter the tangible presence of God through prayer and simple singing to partner with God in intercession for personal, corporate and cultural renewal. It is our desire that these prayer gatherings would serve to usher in the power and presence of God in our hearts, our church community, and where we live. We invite you to join us and to make this pursuit a part of your monthly rhythms.

When:

2nd Wednesday of the month starting January 11 from 7:00PM - 8:15PM. (Other dates: February 8, March 8, April 12, May 10)

Where:

GMR Auditorium

Register:

No RSVP needed. Just show up.
They Knew How to Pray Book Discussion - Rick Hebert -
Description:

One of the best ways to perfect any skill is to learn from a master, and prayer is no different. But where do you find skilled believers who will take you under their wings and mentor you? Come, and enrich your prayer life as we study, discuss, and practice with

They Knew How to Pray: 15 Secrets from the Prayer Lives of Bible Heroes

. These biblical heroes--including Joshua, Hannah, David, and Jehoshaphat--will counsel you with their cries to God, ignite your faith with their spiritual passion, and mold your heart to God's. We'll look at the prayer lives of these Bible heroes through the lens of the gospel.

When:

Wednesdays for 8 weeks (January 18 - March 8) from 6:45PM - 8PM

Where:

Education Building - Room 305

& Zoom Option available
---
Women Only Studies
Women's Bible Study (Thursdays) - Ephesians & Lent - Leigh Verm - & Cindy Stashanko -
Description:

We are committed to meet casually together on Thursday mornings through the year to study God's word, pray together, and encourage one another. It is never too late to join; women of all ages are welcome. Contact us with questions.

We have childcare, but an RSVP is necessary to secure a spot.

When:

Thursdays from 9:30AM - 11AM, January 19 - April 27

Where:

Education Building- Room 305
Ladies Bible Read - Elenore Beach -
Description:

Join a group of gospel-loving women who love to read through Scripture together. We meet together the first and third Monday mornings of the month to discuss the questions and insights we are gleaning from our readings. Currently, we read through portions of the old and new testaments and engage in laid back but profound discussion.

When:

1st & 3rd Mondays from

10:30AM - 12PM

Where:

Online via Zoom

Register:

Email Elenore Beach.
---
Men Only Studies
Saturday Morning Breakfast Gathering - Dave Bokmiller -
Description:

The Men's Breakfast Group meets for a time of fellowship, Bible-based study, discussion & prayer.

When:

1st & 3rd Saturdays of the month, 8AM - 9:30AM *watch the website for any schedule changes

Where:

GMR Cafe

Questions:

Email Dave Bokmiller.
Wednesday Night Bible Study - Jim Pearce -
Description:

A book study and a time for fellowship and mutual encouragement.

When:

Wednesday evenings at 6:00PM

Where:

GMR - Education Building - Room 304

Questions:

Email Jim Pearce.
---
Prayer
Sunday Morning Prayer Gathering - Dave Bokmiller -
Description:

Everyone is invited to join the prayer team to pray for our world, nation, community, church and one another. Each week prayer requests from the church family are shared and prayed for. You may come to be prayed over as well.

When:

Sunday mornings from 9:45AM - 10:15AM

Where:

GMR - Education Building - Room 304

Questions:

Email Dave Bokmiller to receive the prayer list.